The 3A Institute's mission is to create a new branch of engineering to design, build and manage artificial intelligence safely, responsibly and sustainably at scale. These systems span industries and societies, and so imagining a new branch of engineering to manage them needs diverse perspectives. As part of its mission, 3Ai has designed an experimental Masters program bringing together people from a range of disciplines, professional backgrounds and life experiences to help shape what a new branch of engineering might look like.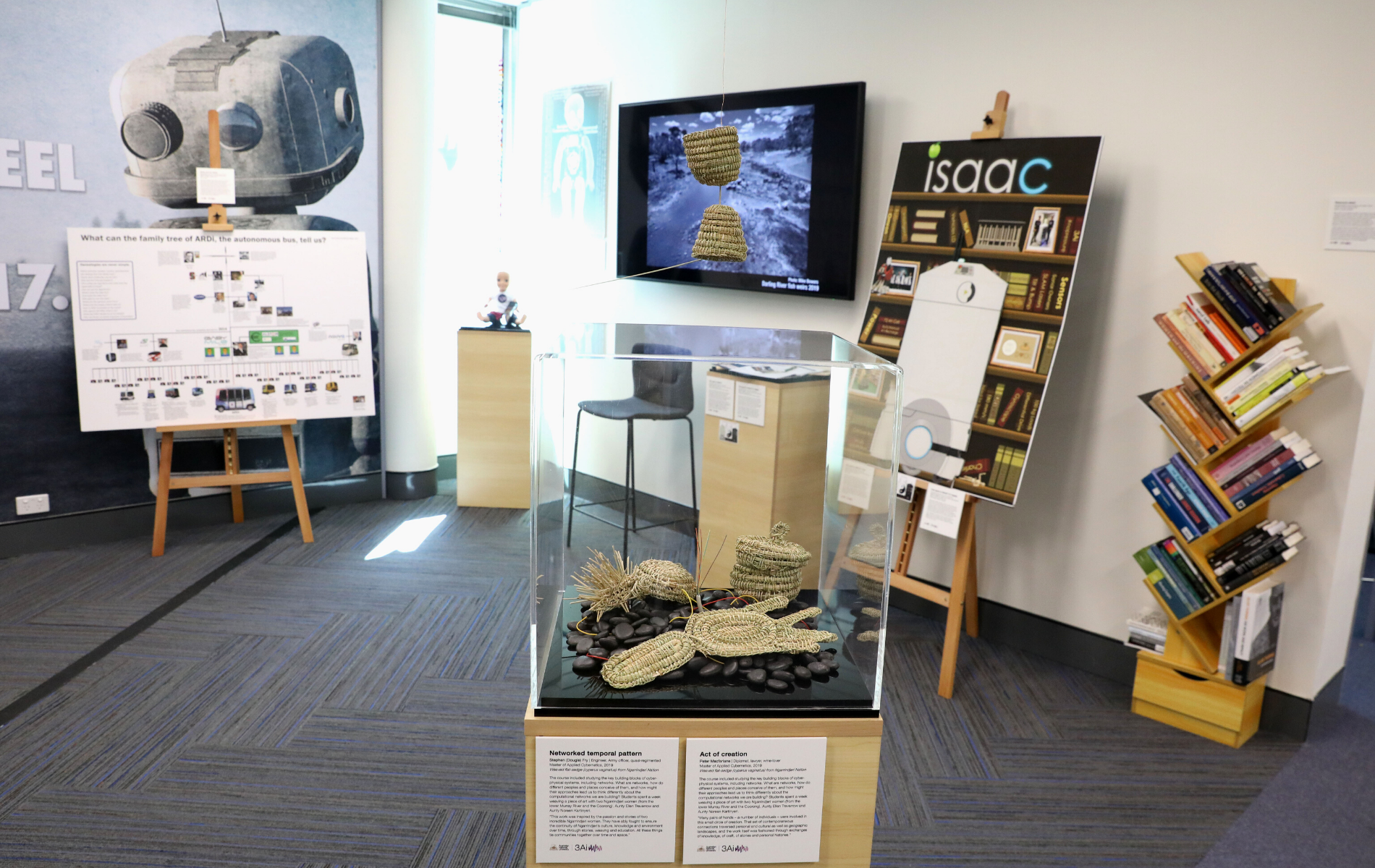 What sparked the project#
At the beginning of 2018, Director Genevieve Bell challenged our small and growing team to go further than simply imagining and theorising what a more responsible, sustainable future for Ai might look like, and instead bring it into existence through education.
Originally, a Masters program was intended to be introduced after three years of intense case study research. However, Genevieve anticipated that by 2021 the world would have changed significantly (it's 2020 and it looks like she was right!). For more responsible, sustainable, safe – and diverse – approaches to designing Ai systems to be a reality, there had to be education pathways setting up people in organisations to recognise their importance, and put them into action, immediately.
In 2018, we began recruiting students. We weren't just looking for people with the strongest academic or professional credentials in their domains. We wanted people willing to collaborate with people very different from themselves. They needed to be willing to take risks, and cope with uncertainty. This was new territory for all of us. Our goal that first year was to work collaboratively with a student cohort to experiment and iterate a curriculum as we went.
Because this was a wholly new program, we wanted to fully fund the student cohort participating. We found three great partners for the first year of the program – Microsoft, KPMG and Macquarie Bank – who helped us support student participation. They were also essential collaborators: participating in 3Ai events, suggesting ideas for students to explore, and providing opportunities for 3Ai staff and students to connect with industry, understand their needs and what excited them about the future of Ai.
The Masters program was built around some core principles: origin stories are important – history and context help us understand how technologies are designed today; there are diverse voices and perspectives shaping technology, and teaching resources should reflect that; education should be connected to and informed by organisations in industry already working with systems; before moving to solving problems, students needed to know how to frame critical questions; alongside skills in programming and building cyber-physical systems, students needed systems analysis and insights into leveraging systems; and learning-by-doing was a useful way to shape future curriculum improvements.
What we did#
Through a rigorous multi-stage recruitment process, we selected 16 incredible people who were offered scholarships and agreed to participate in the first year of the bold experiment with us: affectionately named the #3aifirstcohort.
From February to November 2019, our students spent time in and about the institute in seminars, workshops and the lab, in what can easily be described as a jam-packed learning program. The new practitioners-to-be learned to critically analyse and frame questions about cyber-physical systems, studied these systems through industry cases and learned the practical skills (hardware and networks fundamentals, programming and such) that they could put towards building their own cyber-physical systems.
In early 2020 the students then undertook their final individual capstone experience with industry and research partners.
Throughout their studies, the first cohort recorded reflections of their experiences of the Masters, in video diaries, review workshops, feedback with staff and surveys. These reflections, supplemented by reflections from staff, informed changes to course design and teaching methods at various stages throughout the year. Some materials were spun off into short courses and micro-credentials that were tested and iterated while the Masters was underway, in large Australian companies.
Now, the #3aifirstcohort is about to graduate, and the #3ai2020cohort – our second cohort – is nearly halfway through their studies.
In 2020 we have added new voices and perspectives to testing and iterating the curriculum. We have welcomed students from a range of different countries and cultures to help us think about the global relevance of our curriculum and the new branch of engineering.
After a few weeks of in-person courses with our second cohort, the whole educational experience was moved online with the COVID-19 university shutdown, providing opportunities to test just what works and doesn't for different people in the digital and remote classroom. Far from disrupting our experimental Masters project, the curveballs that 2020 has thrown us have brought to light new insights. What this online sprint can tell us on our journey to a new branch of engineering remains to be seen – we will be reflecting on this in the coming weeks and months. We will stay true to our path and keep iterating throughout semester 2 as our students and faculty can come together in the same physical classroom again.
A window into the 3Ai Masters experience#
Explore the 3Ai Masters life on YouTube
The Aha! moment#
The project is multi-year, and will have inputs from 4 cohorts by its conclusion. These early years have created incredible memories and new relationships, as well as transformational and challenging moments for staff, students and guests alike. Working with people who come from different cultural and professional backgrounds, who think differently to the way you do, yields many surprises and insights – they are frequently joyful, but also occasionally give rise to the most painful arguments! We're proud of the way that everyone has come together in this shared venture, and how we all continue to commit ourselves to pinning down what this Masters course means for the new branch of engineering.
We are continually surprised by just how much the process of teaching something into existence draws on the students' own experiences, and the links they create across courses. We couldn't have predicted some of the moments of the course our very diverse students came to love, what they found challenging, what insights they found most valuable. Every individual's experience has been different. What we certainly didn't predict was that half of the cohort would want to go on to PhDs to keep building this with us.
Our alumni from the #3aifirstcohort remain close to the 3Ai's broader research project and mission; as well as those going on to PhD, all alumni will become affiliates of the 3Ai and we will have regular opportunities to hear where they end up influencing and leading the design of cyber-physical systems. It is not just a new curriculum, for a new branch of engineering that we are building, but a family and broader community who will nurture it into being.
That is the impact of a transformational experience and we are grateful to all who continue to be involved in this crazy and exciting project, to build a more responsible, sustainable and safe future for Ai-powered cyber-physical systems with us.
With thanks to 3Ai Honorary Research Fellow Caitlin Bentley, Senior Fellow Ellen Broad and Research Lead Katherine Daniell for capturing this snapshot.
Research for this project is still underway and we will endeavour to update this page regularly with new developments.